Elite Honors Program Enhancement
Elite Honors Program Enhancement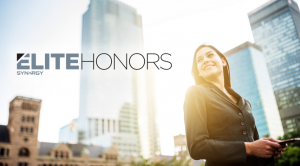 Since its introduction in June 2015, Synergy's Elite Honors Program has provided a systematic approach for Team Members to build a sustainable and successful long-term business with Synergy WorldWide.
In an effort to simplify and streamline this program globally, Synergy is adjusting the volume requirements as follows.
TC1 Volume: 650 CV
Activation Volume: 150 CV
Tracking Center 1 (TC1) volume represents a combination of personal and customer volume. Activation volume represents the CV that comes into your organization from personally sponsored activations.
This enhancement is effective immediately, as of January 1, 2016.
CONFERENCE CALL TO ANNOUNCE GO ELITE BONUS ENHANCEMENTS
Beginning February 1, Synergy will implement a new and simplified Go Elite Bonus payout structure in North America. Get all the details and find out how much you can earn on our 2016 Kickoff Call, Wednesday, January 13 at 7 p.m. (MST).
Shane Greer, North America General Manager, will give you all the details and will outline exciting things ahead in 2016. Don't miss it!
2016 Kickoff Call
Wednesday, January 13
7 p.m. (MST)
Phone: 1-800-832-4695
Pin: 8909#
2016 will be another great year – make sure you're a part of it!
---
---