GRAND OPENING: Hughes Center for Research and Innovation
The Grand Opening of Nature's Sunshine's Hughes Center for Research and Innovation commenced February 27, 2015, at Nature's Sunshine Headquarters where a 5,400 sq. ft. area now houses labs, clinical space and rooms for consultations and clinical studies.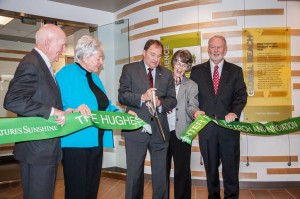 "The Hughes Center for Research and Innovation is designed to help combat health mega-trends driven by diet and lifestyle choices through natural, nutritionally therapeutic products," said Gregory L. Probert, Nature's Sunshine Chairman and Chief Executive Officer. "Combining our scientists with new technology, we will continue to lead development of effective herbal and nutritional products for consumers worldwide by studying supplement interactions at a molecular level."
The Hughes Center is one of the most advanced research centers of its kind and is a true signal of Nature's Sunshine's and Synergy's economic strength. Utah Governor Gary Herbert attended the event to officially open the center and recognize both companies as hugely influential businesses in not only Utah, but also the world.
This multi-million-dollar facility is equipped with state-of-the-art instrumentation that will allow scientists to analyze interactions between the body's systems and Synergy WorldWide's nutritional supplements. By inspecting these interactions at a molecular level, biologists, chemists, and physicians, will be guided to the most bioactive and potent formulations.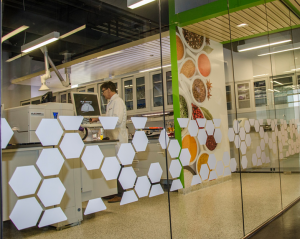 "The Hughes Center for Research and Innovation incorporates some of the most advanced technology in the industry," said Dr. Matthew Tripp, Nature's Sunshine Chief Scientific Officer. "For example, the Flexmap3D can analyze 500 analytes, such as genes and proteins, from a single human sample, such as a drop of blood. Moreover, with this machine, 144,000 data points can be analyzed in one hour, which provides rapid quantitative analyses of various biomarkers."
Nature's Sunshine and Synergy WorldWide are deeply committed to formulating natural, scientifically tested products that the consumer can fully trust.
At Synergy WorldWide, we are serious about proving the quality of our products. The future of Synergy WorldWide is incredibly bright, and we cannot wait to share the groundbreaking research that will be done in this center. The Hughes Center for Research and Innovation truly puts Synergy WorldWide and Nature's Sunshine Products a step above the rest.
CLICK HERE for the official press release.
---