Perfect Summer SLMsmart Recipes
Perfect Summer SLMsmart Recipes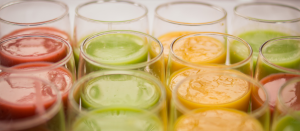 There is at least another month of blazing heat to survive before autumn kicks in, but a cold, refreshing smoothie or shake has the ability to make any stifling day tolerable. Pack your smoothies with as much nutrition as possible by adding SLMsmart Meal Replacement. You'll get all of the vitamins and minerals provided in your regular smoothie ingredients, plus SLMsmart's three-protein blend.
Give these fruity SLMsmart recipes a try and they'll quickly become your go-to summer meals:
For all recipes, simply blend and enjoy!
Piña Colada
2 scoops vanilla SLMsmart Meal Replacement
½ cup pineapple, chopped
½ frozen banana
½ cup unsweetened coconut milk
½ cup water
Chocolate Cherry
2 scoops chocolate SLMsmart Meal Replacement
1 cup unsweetened almond milk
1 banana
1 heaping cup frozen cherries
3-5 ice cubes
Peachy Green
2 scoops vanilla SLMsmart Meal Replacement
1 cup unsweetened almond milk
1 cup frozen peaches
1/2 cup frozen pineapple
1/2 banana
2 cups kale
Chocolate Covered Strawberry
2 scoops chocolate SLMsmart Meal Replacement
1 cup fresh strawberries
1 banana
¼ cup water
2 cups crushed ice
Orange Cream
2 scoops vanilla SLMsmart Meal Replacement
1/2 cup unsweetened almond milk
1/2 cup water
3 ounces frozen orange juice concentrate
1/2 frozen banana
3-5 ice cubes
---
---