Oh My Omegas!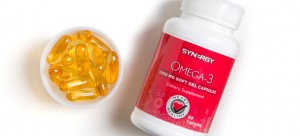 The word "omega-3" may sound like the name of a spaceship from an 80s sci-fi movie, but it's actually the name of something far more important. Essential to human health, an omega-3 is a fatty acid many people are lacking in their diets. Thankfully, people are becoming more and more aware of this fatty-acid and the benefits it provides. As experts continue to study the power of omega-3 supplementation, Synergy Team Members are proud to offer pure, potent Omega-3 capsules to customers across the United States.
Omega-3 capsules are currently available at a discounted price in this month's Heart Health Special ending February 29! Save 25% on three of Synergy's heart healthy products for a limited time.
Let's take a closer look at what makes omega-3 supplementation a wise and healthy practice:
WHY OMEGA-3? THE BENEFITS.
Omega-3 fatty acids can be powerful tools for the human body to use. Most people know Omega-3s for their ability to support a healthy cardiovascular system. This is for good reason, as studies continue to showcase omega-3 fatty acid's ability to support heart function, enhanced circulation, and other cardiovascular strength. Additionally, Omega-3s provide powerful protection for cell membranes throughout your cardiovascular system. Omega-3 supplementation can also help a person maintain blood-pressure levels and a good ratio between HDL and LDL cholesterol.
As more science emerges behind the importance of gut health, many experts are taking note of the role omega-3 fatty acids play in your digestive system. They can strengthen the mucosal cells of the gut wall (which could use the strengthening, as it is easily and often damaged), and may even play a role in decreasing gut inflammation. As a person builds the health of their gut, they will see benefits extending to various parts of their body, including the skeleton, the brain, and of course, the heart.
WHY OMEGA-3? THE NEED.
Nutritionists have labeled omega-3's as "essential" fatty acids, but we cannot get them without consuming them. In other words, omega-3s are not naturally produced by the body, so unless you are regularly eating healthy portions of certain fish, algae and oils, you may be lacking a beneficial dose of omega-3's.
Of course, the majority of Americans adhere to the standard Western diet in which they rarely consume foods that contain omega-3 fatty acids. In fact, the typical American diet has been shown to affect the body in harmful ways exactly opposite to the benefits omega-3 fatty acids can promote.
There are countries outside of the United States where foods containing omega-3s are more regularly consumed. Those countries report fewer cases of specific health concerns, and many experts and nutritionists believe the link to be valid.
WHAT ARE THEY?
Don't be alarmed by the term "fatty acids." Omega-3 fatty acids don't make you obese, and they surely are not what circulating through the crowds of Woodstock.
Fatty acids are, technically, a carboxylic acid with a long aliphatic chain. What does that mean? It means that the right fatty acids are potentially building blocks for different bodily functions. Fatty acids are digested, absorbed into the blood and, in the case of Omega-3's, form a molecule called a triglyceride.
The Synergy Omega-3 supplement is a natural triglyceride fish lipid concentrate that provides EPA (eicosapentaenoic acid) and DHA (docosahexaenoic acid). These particular acids are those being shown to produce the benefits listed above and more. Eating certain fish is the best natural way to consume EPA and DHA, but the overconsumption of fish is risky. Mercury and other toxins are becoming all-too present in many of today's fish-heavy meals.
Because Synergy rigorously tests every batch of our Omega-3 product before it ever gets to your shelf, you can put this EPA+DHA supplement to the test with confidence. Most likely, your doctor is aware of the many benefits that come from omega-3 you supplementation. Feel free to ask him or her for more information about this fascinating triglyceride science. Additionally, omega-3s are recommended by nutritionists around the world and, of course, by the Synergy Medical and Scientific advisory board. We invite you to add Synergy's Omega-3 to your diet and reap the rewards you may not even know you've been missing.
---
---