Medical Expert Finds Joy with Synergy
Medical Expert Finds Joy with Synergy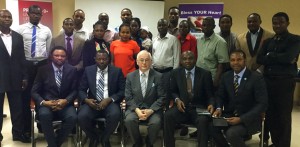 Dr. Anthony Oketah has always been fascinated with the heart—the way it transports blood, the way it affects every other system and organ in the body, and its role in sustaining human life.
This passion turned him to cardiology and he has been practicing in this medical field for 15 years. However, there was something about his profession that was unsatisfying. He wanted to be able to do more for his patients. In addition, Dr. Oketah was born with an entrepreneurial spirit, always looking for an opportunity to create something bigger than himself, which is something that's more difficult to exercise as a doctor.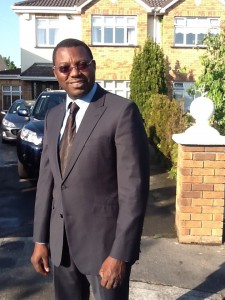 As he began to feel less fulfilled at work, Dr. Oketah began seeking a business opportunity that would allow him to do more and be more. Irish Team Director James Booth introduced ProArgi-9+ to Dr. Oketah and quickly Dr. Oketah knew he had found the opportunity he was looking for.
"I went through every bit of the Synergy website; I studied everything," Dr. Oketah said. "I was so impressed by the company, its culture, and its business views. The Compensation Plan is unbelievable and I have confidence in it."
As a respected figure among Ireland's medical experts, Dr. Oketah makes a powerful statement as a Synergy distributor because he has an intricate understanding of how the products work to support optimal health. After visiting Synergy WorldWide Headquarters, touring the manufacturing facility, and visiting the Hughes Center for Research and Innovation in 2015, Dr. Oketah said he was impressed by the team of scientists and their "perfect" responses to his challenging questions. He witnessed the financial and physical investment Synergy put into creating the absolute best products for its customers.
Knowing that Synergy's products and business opportunity had the capacity to make major changes in people's lives, he took the business to the people in a country he cares for deeply: Nigeria. He travels to Nigeria monthly to meet with local doctors and disperse the product. Testimonials from happy consumers are flooding in.
"Some doctors are focused on money," Dr. Oketah said. "When people come to me and say 'Thank you for this product, thank you for helping me start this business, and thank you for helping my family,' it gives me joy money can't buy. As a doctor, I can't give people employment, but through network marketing, I can."
When considering his Synergy goals, Dr. Oketah realized that he couldn't conduct his business the way he wanted to without sacrificing his medical career. He plans to give all of his time to Synergy WorldWide soon, and spend the majority of that time helping people in Nigeria get back on their feet.
"This business is about your personal ambition and your personal dream," Dr. Oketah said. "You need to know what your main goal is and then you need to work, and you need to work hard. Anyone can be anything with this company. I'm so confident in this. What do you want to be? What are you looking for? I am so happy to have found Synergy."
---
---