SLMsmart 90-day Challenge: 5 WEIGHT LOSS HEALTH BENEFITS
SLMsmart 90-day Challenge: 5 WEIGHT LOSS HEALTH BENEFITS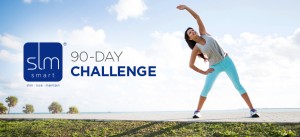 Every new day provides an opportunity to make better, healthier decisions and work toward your target weight. Perhaps it has been a while since you've seen the number you've wanted to see on the scale. Maybe you were in your early 20s the last time you felt strong and fit. Whatever your case may be, there is no better day than today to begin transforming into the ideal you. Do it for your health and do it for yourself. Synergy is eager to help. For this reason, we invite you to join the SLMsmart 90-Day Challenge, and take advantage of a variety of resources that will help you to achieve your goals.
In addition to sculpting the body you want to see in the mirror, weight loss isn't all about physical appearance. It's about becoming healthy from the inside out. By coming closer to your target weight, you will experience a number of health benefits that will have an invaluable impact on your life.
Sleep like a baby
Researchers at Johns Hopkins University School of Medicine discovered that shaving off excess weight can help you sleep better. Some people with excess weight develop obstructive sleep apnea, which occurs when the airway is blocked while sleeping. Airway blockages often results in frequent awakenings during the night. These disruptions during sleep cycles make for groggy mornings and lower energy throughout the day.
Surge energy levels
On your journey to lose weight, healthy habits need to come into play. These habits include eating nutrition-dense foods and exercising regularly. While consuming sugar can make you feel sluggish, fruits, vegetables, and lean meats are full of nutrition that boost energy levels. Exercising has the same effect. While you may believe that exercising will make you tired, it actually does the opposite by rising to the challenge you've presented and creating more energy.
Ease joint pressure and pain
A study published by Dr. Stephen Messier showed that losing 1 lb. can take four pounds of pressure away from a knee joint. He then suggested that losing 10 lbs. relieves 48,000 lbs. of pressure from each mile walked. Considering this theory, consider how much pressure we apply to our bodies over the course of a lifetime. It's no wonder that those carrying around extra weight are more likely to experience joint pain.
Heighten immunity
The immune system is made up of a variety of cells that protect the body from outside invaders. All of these cells need to exist in a perfect balance to best protect the body. However, poor health will throw off this balance, and excess body fat plays a role in tipping that scale. Excess weight promotes the production of inflammatory molecules that disrupt the immune system, but losing unneeded weight will decrease the production exponentially.
Reduced health risks
The health risks of being overweight or obese are seemingly endless—high blood pressure, heart disease, stroke, cancer, fatty liver disease, kidney disease, and so on. Do yourself and your future the favor of reducing these risks as much as possible. Give yourself the upper hand and live with the freedom of knowing you have a healthy body by working toward your target weight today.
The SLMsmart 90-day Challenge is intended to not only help you reach your target weight, but establish a reasonable lifestyle that makes it easier for you to maintain your ideal figure.
---
---