New year, new SLMsmart 90-day Challenge!
New year, new SLMsmart 90-day Challenge!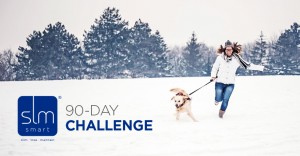 What are your New Year's resolutions? You may have a resolution to be stronger, healthier, and closer to your target weight, and you're far from alone in this pursuit. In fact, the No. 1 resolution made in 2016 is weight management, while the No. 5 resolution is becoming fitter and healthier.
Begin your journey to a better you beginning February 1, 2016. All are welcome to join!
And the best part? The 90-day Challenge participant with the most impressive transformation will receive a $1,500 CASH PRIZE!
Make the decision to join the 2016 SLMsmart 90-day Challenge and recruit your friends and family to join you. Full Challenge details will be released Friday, January 15.
CLICK HERE to see last year's SLMsmart 90-day Challenge results.
---
---