Karate World Champion Gains Competitive Edge with Synergy Products
Karate World Champion Gains Competitive Edge with Synergy Products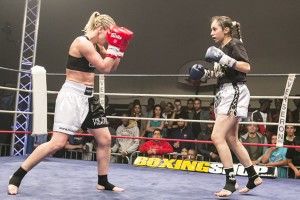 Cathy McAleer is one tough woman, both mentally and physically, and is an elite athlete in mixed martial arts. Her schedule is booked with all things karate, from training herself and other karate champions to playing crucial roles in the operations of karate businesses throughout Ireland.
She is the Founder of NIKA (Northern Ireland Karate Academy) and runs two clubs in Queens Leisure Complex Holywood and Stormont Pavilion where she helps train a number of World, European, British and Irish champions. However, neither of these responsibilities are her full-time job. She works day-to-day as a general manager of one of Northern Ireland's Virgin Active Health Clubs. In addition to being certified in sports massage therapy, Cathy has a bachelor's degree in sports marketing.
World WKC Kata Champion 2014
World Kumite Karate Champion 2014
WKC Silver Medalist 2014
WKN European Full Contact Kickboxing Champion 2014
WKN Draw for K1 World Champion 2014
Undefeated Northern Ireland champion for 10 consecutive years
3rd Dan Karate Instructor and national coach for Northern Ireland
"Many people ask me how I fit it all in and also have the energy to compete and train," Cathy said. "Synergy's range of products has made a big difference. All of the products are compliant with WADA, the World Anti-Doping Agency, as being free of banned athlete substances."
Cathy began using the V3 System in June 2014 and found tremendous benefits after only three weeks. Her training regimen is intense and can do a lot of damage to her body, but Synergy products allow her to rain more regularly with excellent recovery. She was able to push herself to increase her runs from 3 miles to 6 miles, though she isn't an avid runner.
All of Cathy's associations in Ireland's athletic scene have certainly helped her obtain an impressive customer volume by sharing Synergy products.
Cathy's next competitive fight will be at the World Open Martial Arts Games in Geneva in September where she will compete in kickboxing.
"A goal of mine is to have two world titles in two different sports, and on September 13 that dream will hopefully come true," Cathy said. "Each of Synergy's products contributes to my success in different ways. Thank you so much Synergy for your world class products!"
We wish you the best of luck Cathy and are proud that you are part of the Synergy family!
---
---